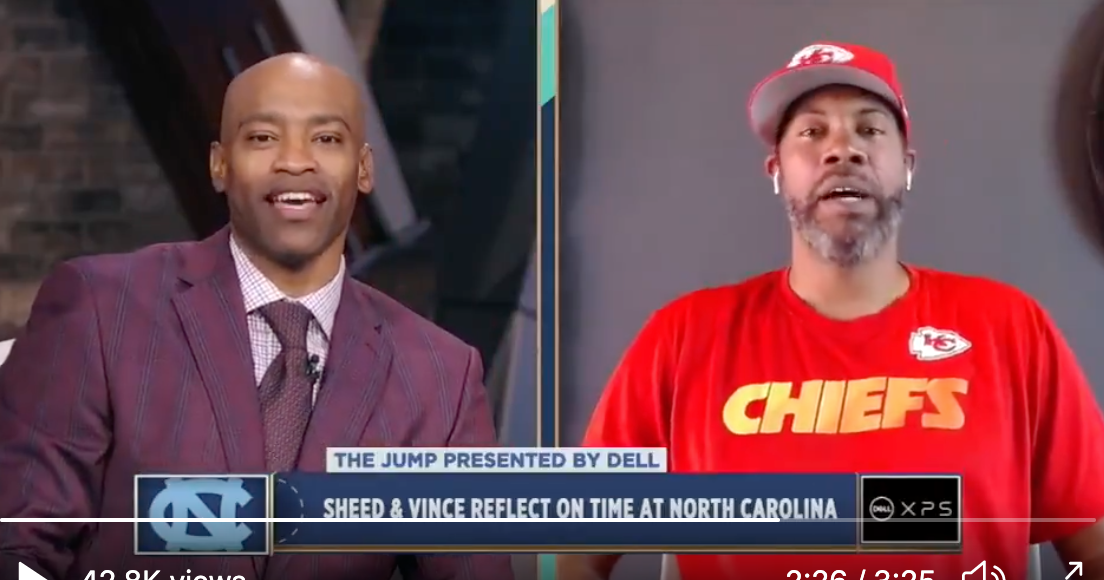 Vince Carter & Rasheed Wallace Tell UNC Basketball, Carolina Family Stories
Vince Carter and Rasheed Wallace almost played together at North Carolina. Wallace played in
Vince Carter and Rasheed Wallace almost played together at North Carolina. Wallace played in Chapel Hill from 1993-1995, and Carter arrived in 1995, just after Wallace left for the NBA Draft.
In a segment on ESPN's The Jump, Carter said how he prayed that Wallace would have stayed so they could have played a seasonn or two together. They would have created one of the more dominant and impressive lineups in college basketball history.
"Once I committed I was praying… that (Sheed) and Stack stayed," Carter said. "…I obviously remember Sheed in high school and when I took my visit there and of course when I played pick-up with them on my visit and got a chance to watch them play."
Carter said this would have been the starting lineup for UNC if Rasheed Wallace and Jerry Stackhouse would have stayed:
1- Jeff McInnis
2- Vince Carter
3 – Jerry Stackhouse
4- Antawn Jamison
5- Rasheed Wallace
"Wow," Wallace said in response to that proposed Carolina lineup for the 1995-1996 season. "That would have been a heck of a five."
"Think about that? That's college," Carter said.
At UNC, Carter became one of the more explosive college players ever. His ability to dunk and play above the rim made him a fan favorite. Wallace, who was in the NBA at the time, took notice of Carter's game and abilities.
"In the hood we called them dummies. Like when you can jump really high for no reason, we call them dummies," Wallace said. "So Vince had mad dummies, he jumped out of the building. His dunks at Carolina were way better mine. He was actually flying.
"And I got to give it to my Carolina brethren. He does have one of the coolest basketball nicknames out there: Half-man, Half-Amazing. To me, that is up there with the 'Human Highlight Reel.' That is a killer nickname in the league. And hey, it's a Carolina thing."
On the segment, Carter and Wallace reminisced about the time they did share in Chapel Hill.
"When I was in college and when 'Sheed and all those guys would come back, one of the guys that I hung out with the most was this guy (Rasheed Wallace). We'd ride around Chapel Hill, listening to Wu-Tang Forever," Carter said.
"Going to grab some grub, hitting Sutton's, Mama Dips, all that," Wallace added.
We had Rasheed Wallace and @MrVinceCarter15 on The Jump together, so you KNOW there was a lot of Carolina basketball talk, including describing a Tar Heels text chain that has more than 50 former players on it: pic.twitter.com/PKTYFgOlEb


— Rachel Nichols (@Rachel__Nichols) May 28, 2021
Carte said that the way Wallace treated him and helped him provided a blueprint for how he worked with younger UNC players both at Carolina and in the NBA.
"Just spitting game on how to be a Carolina guy and what the league was like and just preparation," Carter said. "And that's what Carolina basketball guys would do and that is why we are hated, I don't know, talked about because of the brotherhood. And when you walk into Carolina that just becomes a part of you and he was a big reason why I became who I am as a veteran, going back with the young guys because of what he did for me."
And then the infamous Carolina basketball family group chat that includes former UNC players young and old.
"You should see our group chat…," Carter said. "It is a wide range of the younger guys from Big Smooth (Sam Perkins) to the older guys. We are all in a group chat."
"It's about 50 people on the group chat," Wallace added.